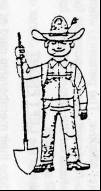 Gloucester Community Gardens
Two Locations near Blackburn Hamlet: At Orient Park Dr. and Anderson Rd.
Operated by the Gloucester Allotment Garden Association


NOTICE

The Association's Annual General Meeting is confirmed for 07:30 pm on Tuesday, March 20th, 2018 at Louis Riel High School, 1655 Bearbrook Road in Blackburn Hamlet. PLEASE NOTE: Association Gardeners are reminded that the deadline for submission of their 2018 registration form is 31 March 2018 and that after this date their 2017 season plot(s) will then be offered to gardeners on the waiting list..

ATTENTION GAGA GARDENERS:
Please have a look at our Proposed Amended Rules for 2019 for the Orient Park Garden plots in advance of the AGM where they will be introduced and voted upon.

(click on the Contact Us link below)
If the Contact link does not work in your browser you can either open your email program and manually enter the email address gaga@ncf.ca or you can adjust your privacy settings in your browser to permit access to your particular email program.