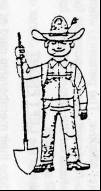 Gloucester Community Gardens
Two Locations near Blackburn Hamlet: At Orient Park Dr. and Anderson Rd.
Operated by the Gloucester Allotment Garden Association


NOTICE

All of the Annual garden plots have now been tilled and staked. PLEASE do not move these stakes from the locations they are in, if there is an issue regarding the placement of these stakes please contact the registrar @ 613-824-8479. In addition all of the compost has been delivered so gardening activities can now proceed full speed ahead. Please remember to leave 1 foot of space free on the borders of your plot so as to permit your neighbour to access their plot.

ATTENTION GAGA GARDENERS:

Please have a look at our Blog below for information on a gracious invite to attend the Pineview Community Association's upcoming Canada Day Celebration.

(click on the Contact Us link below)
If the Contact link does not work in your browser you can either open your email program and manually enter the email address gaga@ncf.ca or you can adjust your privacy settings in your browser to permit access to your particular email program.