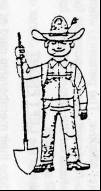 George Bushell Gloucester Community Gardens
Two Locations near Blackburn Hamlet: At Orient Park Dr. and Anderson Rd.
Operated by the Gloucester Allotment Garden Association


NOTICE

ATTENTION GARDENERS

Fall clean-up at the George Bushell Gardens on Orient Park Drive will take place on Saturday, October 13th commencing at 08:00 am. In the event of persistent rain, the clean-up will take place the following day. Annual plots need to be cleared of large vegetation (e.g. corn stalks) and non-compostable items (netting, twine, soil covers, garden hoses and tools, tomato cages, sticks and supports, etc.) by Friday, October 12, at the latest. GAGA cannot be held responsible for any items left on plots by clean-up day. If you are willing and able to volunteer with the clean-up please ensure that you are at the site for 08:00 am and let the on site official attendance taker know you are there to help.


(click on the Contact Us link below)
If the Contact link does not work in your browser you can either open your email program and manually enter the email address gaga@ncf.ca or you can adjust your privacy settings in your browser to permit access to your particular email program.