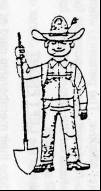 George Bushell Gloucester Community Gardens
Two Locations near Blackburn Hamlet: At Orient Park Dr. and Anderson Rd.
Operated by the Gloucester Allotment Garden Association


NOTICE

ATTENTION GARDENERS

Now that the roadway into the George Bushell Orient Park gardens has been freshly maintained, please respect the speed limit which is maximum 20 km/hr.

(click on the Contact Us link below)
If the Contact link does not work in your browser you can either open your email program and manually enter the email address gaga@ncf.ca or you can adjust your privacy settings in your browser to permit access to your particular email program.