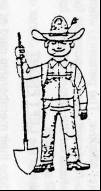 George Bushell Gloucester Community Gardens
Two Locations near Blackburn Hamlet: At Orient Park Dr. and Anderson Rd.
Operated by the Gloucester Allotment Garden Association


NOTICE

ATTENTION GARDENERS

Please exercise caution when going to your plots at the Orient Park site as the City of Ottawa will be delivering crushed gravel to the the site commencing at 09:00 am on Tuesday, August 21st. A City of Ottawa roads crew will also be on site with a grader and packer to distribute and pack the gravel on the entrance and inner roadways. Therefore, it is highly recommended that gardeners stay clear of the site during this road maintenance in order to permit the roads crew to do their work expeditiously. If you do have to go to the site during this time please pay close attention to the heavy equipment and roads crew and stay as far back from the equipment as possible.

(click on the Contact Us link below)
If the Contact link does not work in your browser you can either open your email program and manually enter the email address gaga@ncf.ca or you can adjust your privacy settings in your browser to permit access to your particular email program.